For the Eto-musume's Etotama, view Etotama (Terminology).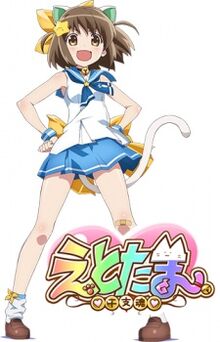 Etotama (えとたま<?) is a Japanese anime television series produced by Shirogumi and Encourage Films. A manga adaptation began on December 2013.
"

Series centers on foolish cat girl trying to become Chinese zodiac member.

"

— Anime News Network
The anime's story revolves around Nyaa-tan, the cat of Chinese astrology who wants to become a member of the Chinese zodiac. Nyaa-tan is simple and suffers from memory loss, and she tries various foolish ways to become a member. She meets Takeru Tendo, a high school student who lives alone in Akihabara, and becomes a freeloader at his house. Little by little, she gets closer to her goal.
Main article: List of Etotama Episodes
The Etotama anime television series is produced by Shirogumi and Encourage Films. It is scheduled to air in April 2015.
The opeing theme is Retry Rendezvous (リトライ☆ランデヴー?) by Rie Murakawa, while the ending theme is "blue moment" by Soruraru BOB.
See also: List of Etotama Chapters
A manga adaptation began serialization from December 2013 in ASCII Media Works's shounen manga magazine Dengeki Daioh.
External Links
Edit